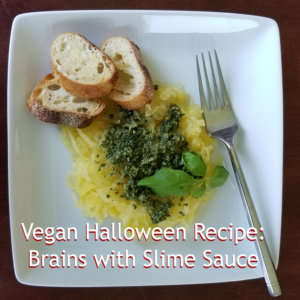 More Halloween naming fun with our Spaghetti Squash with Basil Kale Pesto.  To some, 'Kale' might be spooky enough, but we like Brains with Slime Sauce…much more festive!
I love it because it's one of the easiest dishes to make, ever.  You just bake up the squash and whip up the pesto in the food processor and violá!
It's great for fall when the squash is coming in and you can use kale and basil from the garden.  We didn't grow spaghetti squash this year, so this one is store boughr. But, our kale is still coming in a-plenty and our basil is rocking it in our Tower Garden, so we used those for the pesto.
In the pic, we have it on top all pretty, but I typically mix it in, giving the squash a nice greenish color. Perfect for the spooky season. We usually serve it with our Snackulas recipe (Tomato Basil Crostini), for that extra bit of garlicky spookiness.
Let us know what you think.  We'd especially love to hear your favorite pesto combos…you can use just about any green and seed/nut combo out there!
Happy Living,
Kelly (& Steffan)
P.S.  We'll share the link to the Halloween episode with the recipe on October 4, 2018.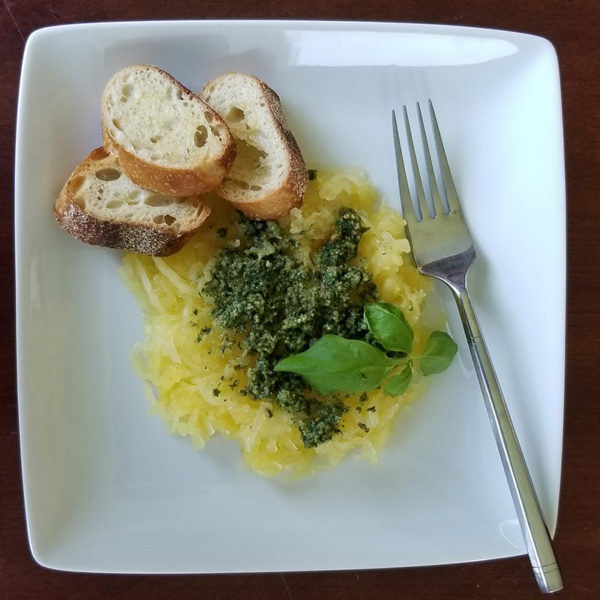 | | |
| --- | --- |
| | |
Preheat the oven to 400 degrees

Cut the squash in half and remove seeds. Place on a backing sheet, cut side down. Add water to cover the bottom of the pan. Place in preheated oven and back for 30 to 40 minutes, until soft.
Place the rest of the ingredients, except the olive oil, into a food processor. Blend them all together until they start to combine.

Add the olive oil and blend until desired smoothness.

Serve on top of the spaghetti squash, or blend it all in--whichever your preference.