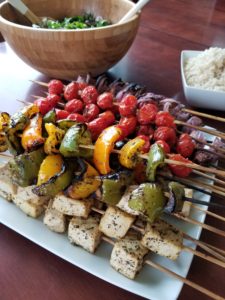 This Tofu Veggie Kebabs recipe is included in the second episode of our Plant-based Vegan Grilling Series.
In my meat eating days, I loved kebabs and I wasn't sure that I could get the full experience with a substitute.  This recipe is a perfect replacement, in my opinion, anyway. Sometimes, I add some soy sauce to this recipe as well, for a little bit more of a  'meaty' flavor.  I didn't include it in the video version, but I have it as an optional ingredient in the recipe. The addition adds another depth of flavor and a bit more saltiness.
When we do kebabs, I group like veggies together per kebab.  This is something I picked up watching Alton Brown.  It seems that when you mix veggie types, you make end up with some under-cooked and some over-cooked.  This is because veggies cook at different temps…I explain in the video.
I also tend to make a LOT of kebabs, because left-overs are super tasty.
In the video, we served our Tofu Veggie Kebabs with White Bean Kale Salad and you can find the recipe here.
Let us know if  you enjoy the recipe with a comment. Check out the video at our Living the Middle YouTube Channel, too!
Happy Living!
Kelly (& Steffan)

The perfectly browned tofu, juicy-charred tomatoes, grill-marked onions, peppers and mushrooms make this Plant-Based Vegan Grilling recipe a favorite in our household. You can't really get easier either--7 simple steps and you'll be enjoying mouth-watering grilled veggies!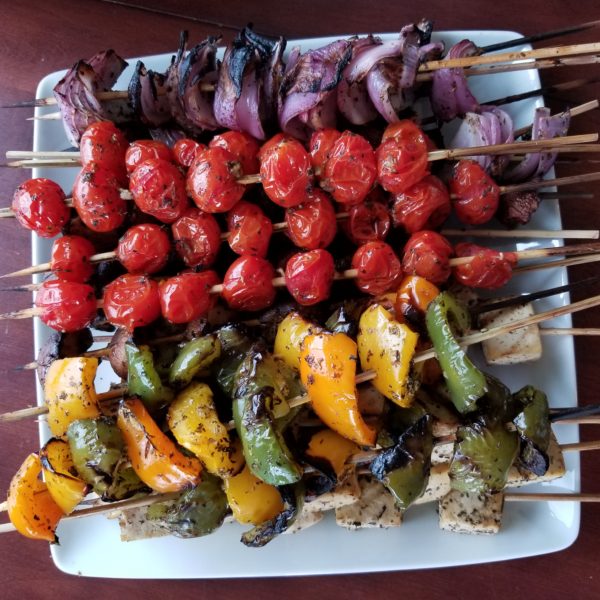 | | |
| --- | --- |
| | |
First, soak your kebab sticks in water. If you're using metal sticks, this is not necessary

Next, prep the tofu. Take it out of its pack, drain it and wrap it in a towel. Put something heavy on top of it to press out the rest of the liquid...let it sit for about 15 minutes or so. Then, cut each block into about 12 pieces each.

Now it's time to prep your veg. Cut everything in to large, kebab-able chunks. Except the cherry tomatoes, they're fine as is.

Once the veggies are ready to go, it's time to make the marinade. Just mix all the marinade ingredients in a bowl and whisk 'em up.

After the marinade is ready, take all the veggies and the tofu and divide them between two gallon size zipper storage bags. Divide the marinade and split it between the two bags. Zip, toss the veggies around 'til they're all covered and then let them sit for at least 30 minutes.

Once 30 minutes or more have passed, it's time to kebab those babies up! As I mentioned, I like to keep my veggie types segregated on the sticks to ensure all of the are grilled to their optimal potential based on type. NOTE: While making the kebabs, this would be a good time to get a charcoal grill going.

When I grill these, I do not put them right over direct flames...more like adjacent. I also make sure to spray them with EVOO spray before putting them on the grill due to the low oil content of the marinade-it helps with sticking. I tend to put the tofu and tomatoes furthest from the heat, and the onions, peppers and mushrooms closer, since they are more 'durable'. Grill each veggie to the desired level of chary deliciousness, removing each kebab as it is done.

Once all kebabs have reached completion, it's time to eat! We like to serve ours with brown basamati rice and a salad. Enjoy!
Nutrition Facts
Tofu Veggie Kebabs
Amount Per Serving
Calories 212
Calories from Fat 90
% Daily Value*
Total Fat 10g 15%
Sodium 749mg 31%
Potassium 824mg 24%
Total Carbohydrates 22g 7%
Protein 13g 26%
* Percent Daily Values are based on a 2000 calorie diet.