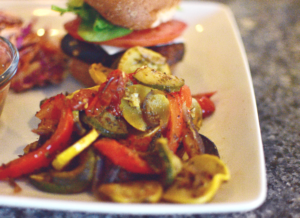 Quick and easy dishes are my favorite and this plant-based, vegan, grilled zucchini, peppers, onions and tomatoes recipe is just that.  Plus, it's completely customizable. You can swap out veggies or seasonings and it's a similar, yet whole new recipe.
In the video, you'll see that my measurements are more like estimations.  I make this recipe a lot, and can tell just by looking how much to add. That means the recipe below is based on my estimations. So, if you think you need a little more or less of something, go for it!  Like with most recipes, there are always tweaks for the cook to make.
What's nice with this dish is that it's great for on the grill, or in the oven.  When grilling, we just toss it on a grill pan; otherwise, a baking sheet for the oven.  You just pop it on, stir occasionally and then when it looks ready, you serve.
Let us know what you think with a comment or ideas for tweaking. We're always looking for new ideas.
Happy Living,
Kelly (& Steffan)
P.S.  You can check the video for this recipe out on our Living the Middle YouTube channel  or to the Plant-Based Grilling: Portobello Mushroom Burgers, Coleslaw & Grilled Veggies  post!
Quick, easy to put together, plant-based recipe, great for grilling or in the oven. The seasoning is key to make this dish super tasty...we go with an Italian style, but you could use any seasoning profile you love (Indian, Mediterranean, Mexican). Enjoy!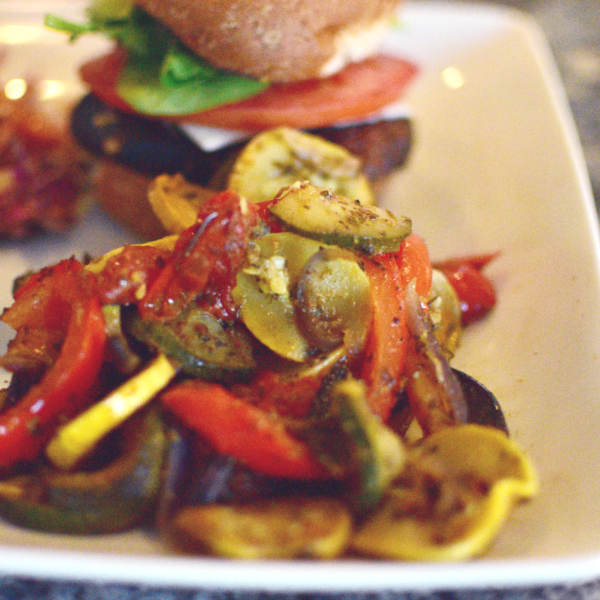 | | |
| --- | --- |
| | |
Prep all the vegetables. I slice the peppers, julienne the onions, wedge the tomatoes (or half the cherry tomatoes) and cut the zucchini into half-moons.

Spread the cut veggies out on a grill pan (or backing sheet if cooking indoors). I covered mine in foil, but this is not necessary.

Sprinkle the EVOO and seasonings and lemon/lime juice on top of the veggies.

Get your hands in there and toss everything around until it's all mixed together.

When your grill is at around 350, place them in the grill and cook until they reach the desired tenderness. If you do them in the oven, I usually set it to 375 and go for about 35 to 45 min.
Nutrition Facts
Grilled Zucchini, Peppers, Onions & Tomatoes
Amount Per Serving
Calories 93
Calories from Fat 45
% Daily Value*
Total Fat 5g 8%
Sodium 615mg 26%
Potassium 544mg 16%
Total Carbohydrates 12g 4%
Protein 3g 6%
* Percent Daily Values are based on a 2000 calorie diet.