I love cauliflower in all forms, but grilling it–similar to roasting it–completely transforms this tasty cruciferous vegetable, bringing it to new levels of deliciousness.  This grilled cauliflower recipe, is one of those things you look at and think, 'eh', but then you taste it.  I may be biased, but it's one of my favorites.  Plus, extra bonus, it's fast and easy.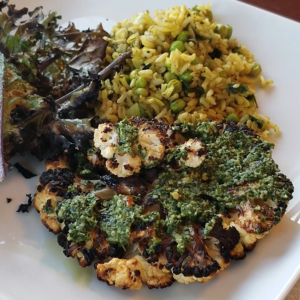 Additional bonus, if it's that time of year when the grill is buried in snow and the only 'smoke' in the air is your breath as you exhale in the 30 below air, you can just roast the cauliflower in the toasty comfort of the indoors for the same delicious result.
We hope you enjoy the recipe.  We'd love any cauliflower grilling recipes you might have as well, so please share with a comment.
If you'd like to see me in action, making this recipe, it's featured in the August 9, 2018 episode of Living the Middle on our YouTube Channel, so check for the details there.
Happy Living!
Kelly (& Steffan)
P.S.  If you subscribe to our Living the Middle YouTube Channel now, you won't miss the episode when it airs!

The perfectly browned tofu, juicy-charred tomatoes, grill-marked onions, peppers and mushrooms make this Plant-Based Vegan Grilling recipe a favorite in our household. You can't really get easier either--7 simple steps and you'll be enjoying mouth-watering grilled veggies!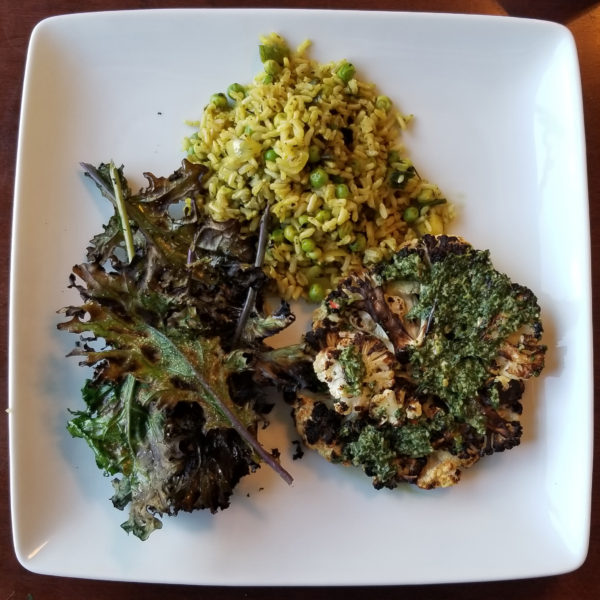 | | |
| --- | --- |
| | |
Prep the Parsley, Oregano and Garlic.

Put the Parlsley, Oregano, Garlic, EVOO, Red Wine Vinegar, Chili, Salt and Pepper into a food processor. Process until well blended.

Remove the leaves from your cauliflower, rinse and cut into thick slices
Remove the leaves from your cauliflower, rinse and cut into thick slices

Spray lightly with extra virgin olive oil and place on a grill pan
When the grill is ready, about 350 degrees, place the grill pan with the cauliflower on the grill. Avoid excess flames, since the cauliflower really needs to roast on the grill for about 40 minutes. If you place over direct flames, it could get too charred...which is not a good thing.

When the cauliflower reaches your desired tenderness and chary deliciousness, take it off the grill and coat it with the chimichurri sauce.

That's it, it's ready to serve. Enjoy!
Nutrition Facts
Grilled Cauliflower with Chimichurri Sauce
Amount Per Serving
Calories 163
Calories from Fat 90
% Daily Value*
Total Fat 10g 15%
Sodium 253mg 11%
Potassium 964mg 28%
Total Carbohydrates 18g 6%
Protein 6g 12%
* Percent Daily Values are based on a 2000 calorie diet.