The first summer of our plant-based vegan lifestyle did not include much plant-based grilling.  This was basically because I was still trying to figure out how to plan a decent meal without meat.  I've always been a cook and meat was something I knew how to do well and to do a lot.  After a year of experimenting and menu planning, I've got it down.  I mean there's always more learning to do, but I can now plan a vegan, plant-based grilling menu without stress.
This episode is the first of 3 that will focus on Plant-based grilling menus.  The other two will be out in July and August, so be on the lookout around the 2nd week of each month 😉
We have each of the recipes in the video listed below.  You will notice in the video that I really don't do a lot of measuring with some of the ingredients.  This is because much of the time I just eyeball.  That means that, like with most cooking, there are no rules!  Go crazy, add different or extra spices. Add more or less of an ingredient.  Make them your own. BUT, make sure you season.  Seasoning is key with all cooking.  I think a lot of the time vegetarian or vegan food is accused of being boring for lack of seasoning…so go for it!
For details on each of the recipes in this episode, check them out here.  I've also included them below, in recipe format:
We hope you enjoy the show…especially the bun toasting!
Let us know what you think with a thumbs up and a subscribe over at our Living the Middle YouTube Channel!
Happy Living,
Kelly (& Steffan)
Full Text Recipes from episode: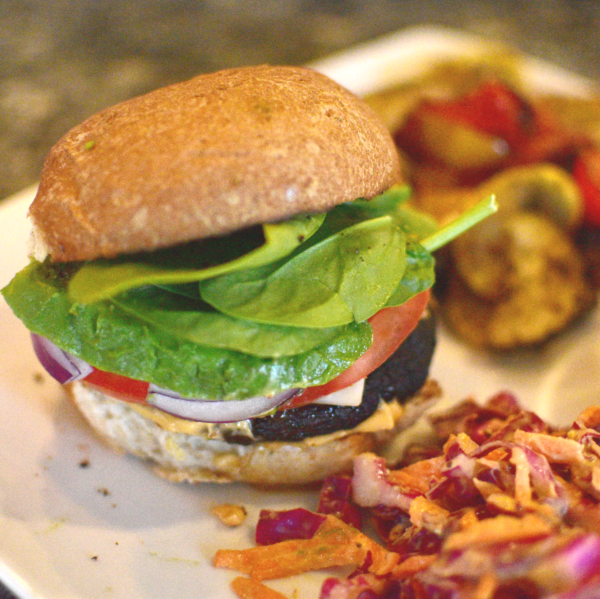 | | |
| --- | --- |
| | |
First, mix the balsamic, garlic, EVOO, and Worcestershire together in a baking pan or in a gallon size plastic bag.

Next, add the mushroom caps, making sure to cover with marinade. This is easier in a plastic bag, but just make sure to spoon the marinade over stir around if you're using a container instead.

Cover and let marinade for a couple of hours.

Prep the toppings: Vegan Cheese, Avocado, Tomato, and Arugula or Spinach - cover and place in refrigerator 'til time to serve.

After marinading is complete and grill is ready, throw those babies on and grill for 5 minutes or so per side.

We like toasted buns, so I recommend toasting them on the grill as well...if you watched the video, you saw that my bun toasting skills are for real.

Once the burgers are cooked and buns are toasted, it's time for serving...enjoy!
Quick, easy to put together, plant-based recipe, great for grilling or in the oven. The seasoning is key to make this dish super tasty...we go with an Italian style, but you could use any seasoning profile you love (Indian, Mediterranean, Mexican). Enjoy!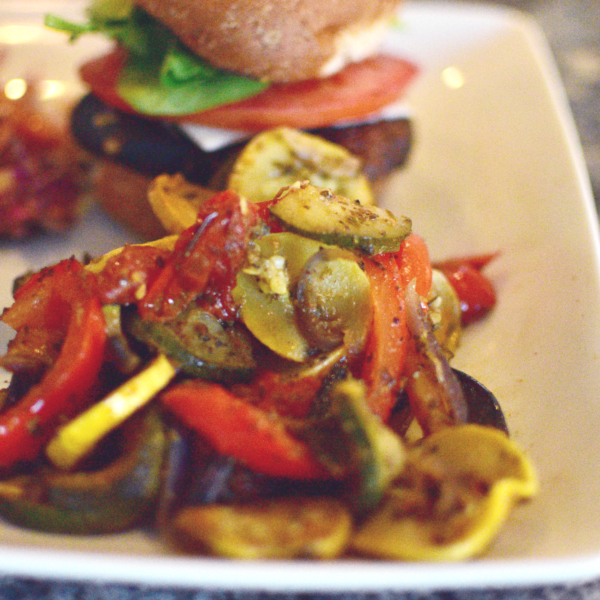 | | |
| --- | --- |
| | |
Prep all the vegetables. I slice the peppers, julienne the onions, wedge the tomatoes (or half the cherry tomatoes) and cut the zucchini into half-moons.

Spread the cut veggies out on a grill pan (or backing sheet if cooking indoors). I covered mine in foil, but this is not necessary.

Sprinkle the EVOO and seasonings and lemon/lime juice on top of the veggies.

Get your hands in there and toss everything around until it's all mixed together.

When your grill is at around 350, place them in the grill and cook until they reach the desired tenderness. If you do them in the oven, I usually set it to 375 and go for about 35 to 45 min.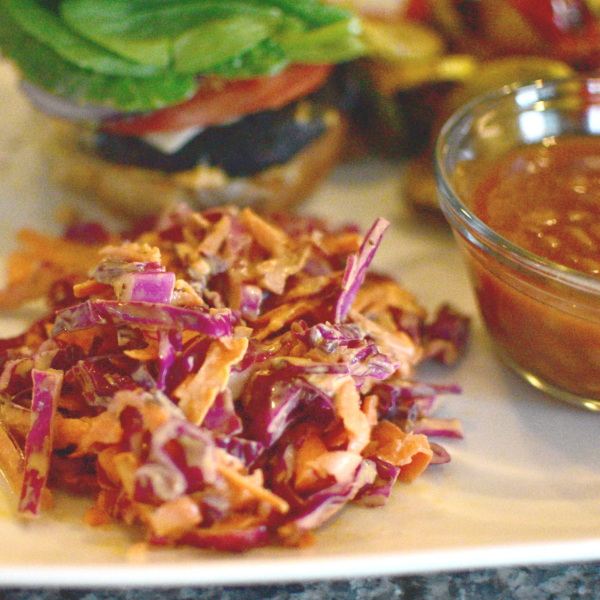 | | |
| --- | --- |
| | |
Shred the cabbage and put into a large bowl

Grate the carrots and add to cabbage

Mix the additional ingredients together in a small bowl. If you watch the video, you'll see I just mixed them in with the cabbage and carrots--that works, too! 🙂

Pour dressing on cabbage and carrots and stir will.

Refrigerate for a least an hour before serving.